LINKS
Lynda Randle Ministries
Windows of Hope
Gospel for Asia
Highway of Tears
Bill Gaither Ministries
Mennonite Central
Committee
Click on
Pictures
To Enlarge
Go to
NASA
Website
For Description













God's
Perfect Sight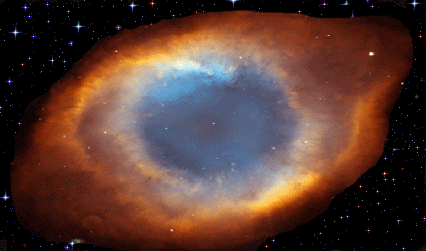 NASA Galaxies Pictures June-October 2009
-

1
2
<![if !vml]>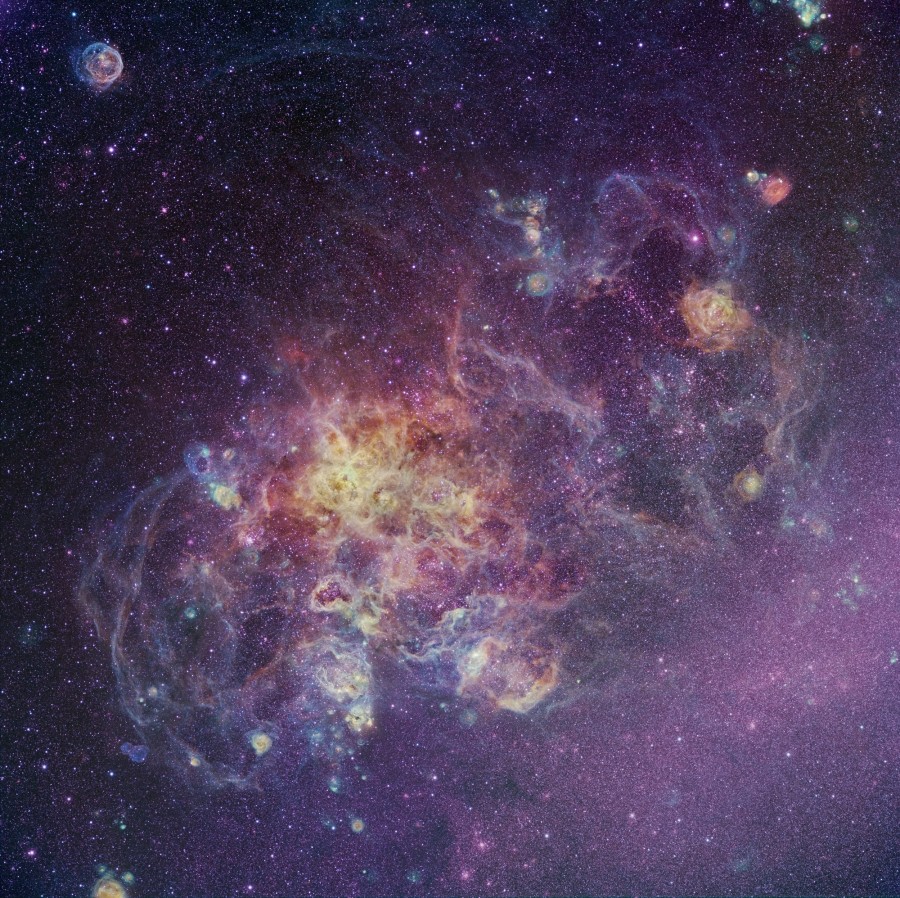 <![endif]>
The Tarantula Zone
Credit & Copyright: John P. Gleason
Explanation: The Tarantula Nebula is more than 1,000 light-years in diameter -- a giant star forming region within our neighboring galaxy the Large Magellanic Cloud (LMC). That cosmic arachnid lies left of center in this sharp, colorful telescopic image taken through narrow-band filters. It covers a part of the LMC over 2,000 light-years across. Within the Tarantula (NGC 2070), intense radiation, stellar winds and supernova shocks from the central young cluster of massive stars, cataloged as R136, energize the nebular glow and shape the spidery filaments. Around the Tarantula are other violent star-forming regions with young star clusters, filaments and bubble-shaped clouds. The rich field is about as wide as the full Moon on the sky, located in the southern constellation Dorado.
<![if !vml]>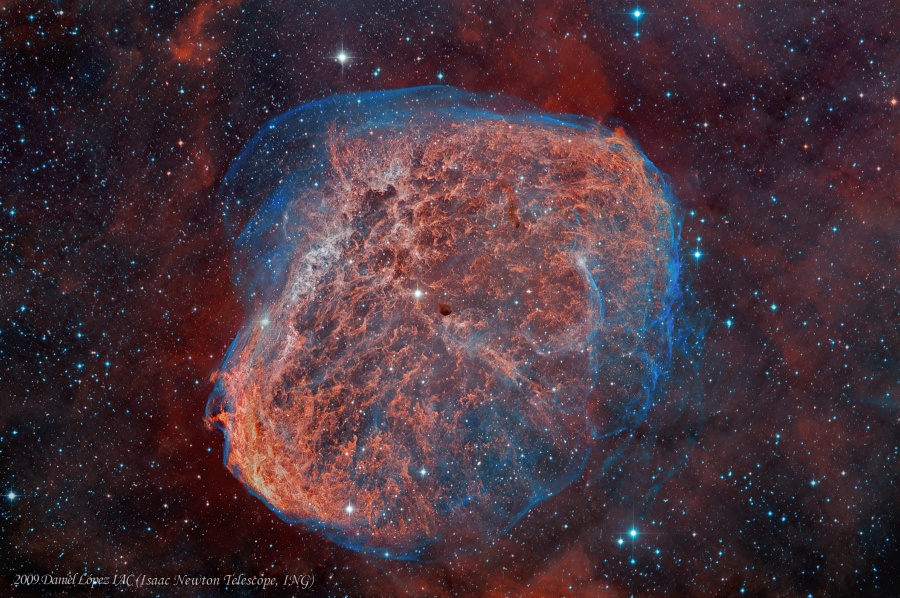 <![endif]>
NGC 6888: The Crescent Nebula
Credit & Copyright: Daniel López, IAC
Explanation: NGC 6888, also known as the Crescent Nebula, is a cosmic bubble about 25 light-years across, blown by winds from its central, bright, massive star. This beautiful portrait of the nebula is from the Isaac Newton Telescope at Roque de los Muchachos Observatory in the Canary Islands. It combines a composite color image with narrow band data that isolates light from hydrogen and oxygen atoms in the wind-blown nebula. The oxygen atoms produce the blue-green hue that seems to enshroud the detailed folds and filaments. NGC 6888's central star is classified as a Wolf-Rayet star (WR 136). The star is shedding its outer envelope in a strong stellar wind, ejecting the equivalent of the Sun's mass every 10,000 years. The nebula's complex structures are likely the result of this strong wind interacting with material ejected in an earlier phase. Burning fuel at a prodigious rate and near the end of its stellar life this star should ultimately go out with a bang in a spectacular supernova explosion. Found in the nebula rich constellation Cygnus, NGC 6888 is about 5,000 light-years away.
<![if !vml]>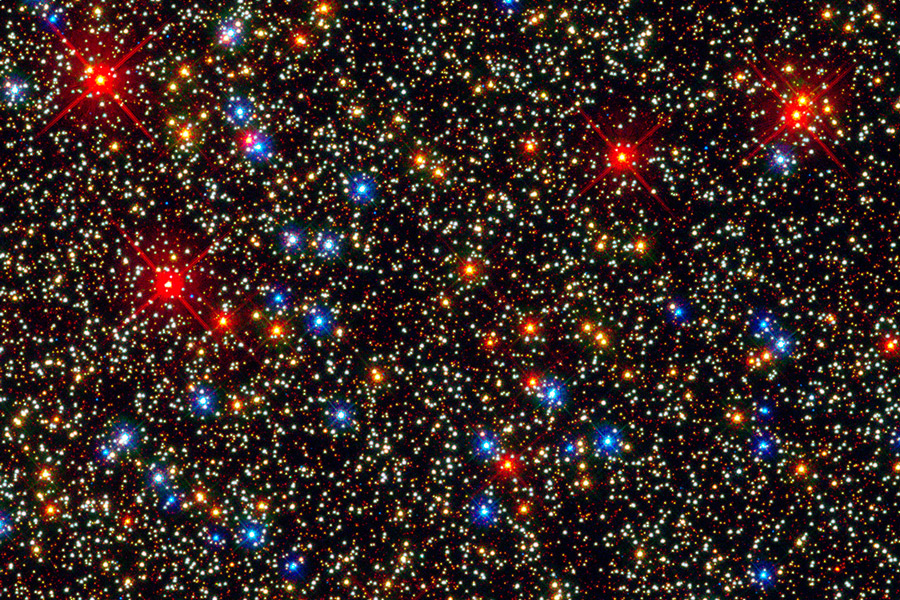 <![endif]>
The Center of Globular Cluster Omega Centauri
Credit: NASA, ESA, and the Hubble SM4 ERO Team
Explanation: What is left over after stars collide? To help answer this question, astronomers have been studying the center of the most massive ball of stars in our Milky Way Galaxy. In the center of globular cluster Omega Centauri, stars are packed in 10,000 times more densely than near our Sun. Pictured above, the newly upgraded Hubble Space Telescope has resolved the very center of Omega Centauri into individual stars. Visible are many faint yellow-white stars that are smaller than our Sun, several yellow-orange stars that are Red Giants, and an occasional blue star. When two stars collide they likely either combine to form one more massive star, or they stick, forming a new binary star system. Close binary stars interact, sometimes emitting ultraviolet or X-ray light when gas falls from one star onto the surface of a compact companion such as a white dwarf or neutron star. Two such binaries have now been located in Omega Centauri's center. The star cluster lies about 15,000 light-years away and is visible toward the constellation of Centaurus.
<![if !vml]>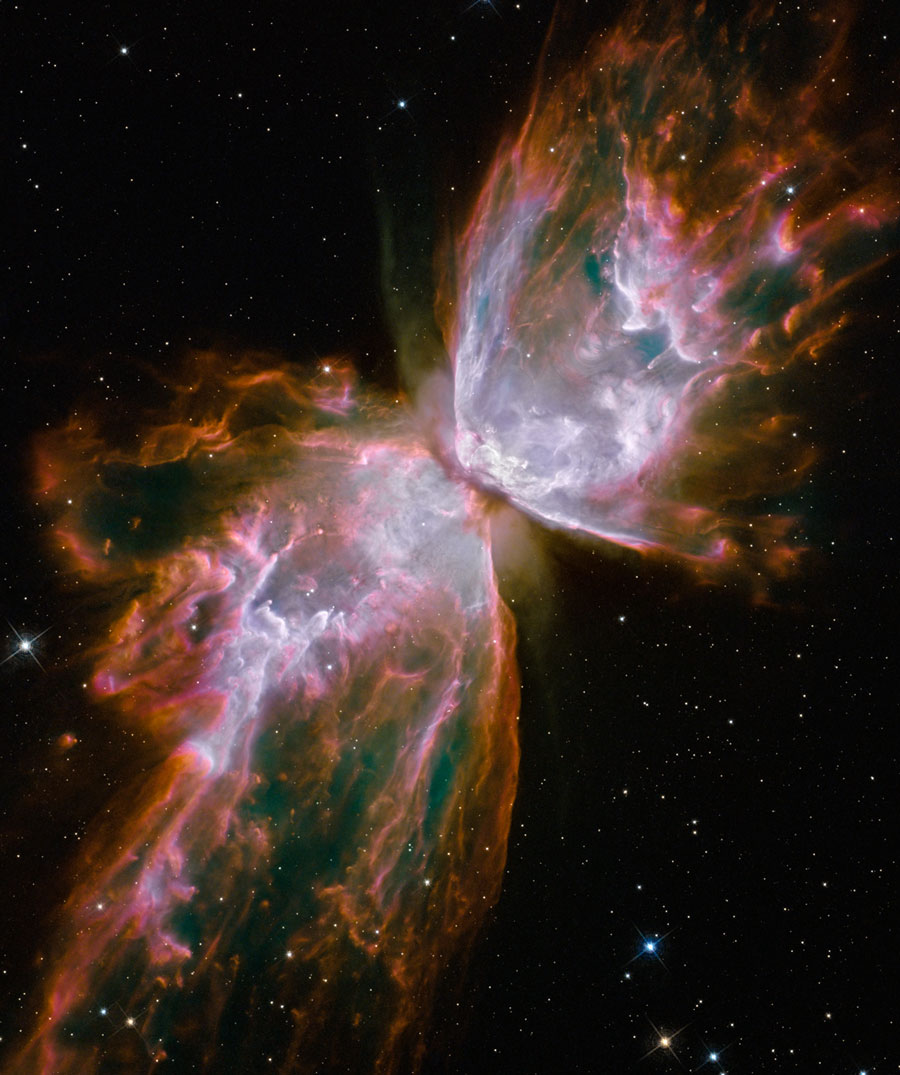 <![endif]>
The Butterfly Nebula from Upgraded Hubble
Credit: NASA, ESA, and the Hubble SM4 ERO Team
Explanation: The bright clusters and nebulae of planet Earth's night sky are often named for flowers or insects, and NGC 6302 is no exception. With an estimated surface temperature of about 250,000 degrees C, the central star of this particular planetary nebula is exceptionally hot though -- shining brightly in ultraviolet light but hidden from direct view by a dense torus of dust. This dramatically detailed close-up of the dying star's nebula was recorded by the newly upgraded Hubble Space Telescope. Cutting across a bright cavity of ionized gas, the dust torus surrounding the central star is near the center of this view, almost edge-on to the line-of-sight. Molecular hydrogen has been detected in the hot star's dusty cosmic shroud. NGC 6302 lies about 4,000 light-years away in the arachnologically correct constellation Scorpius.
<![if !vml]>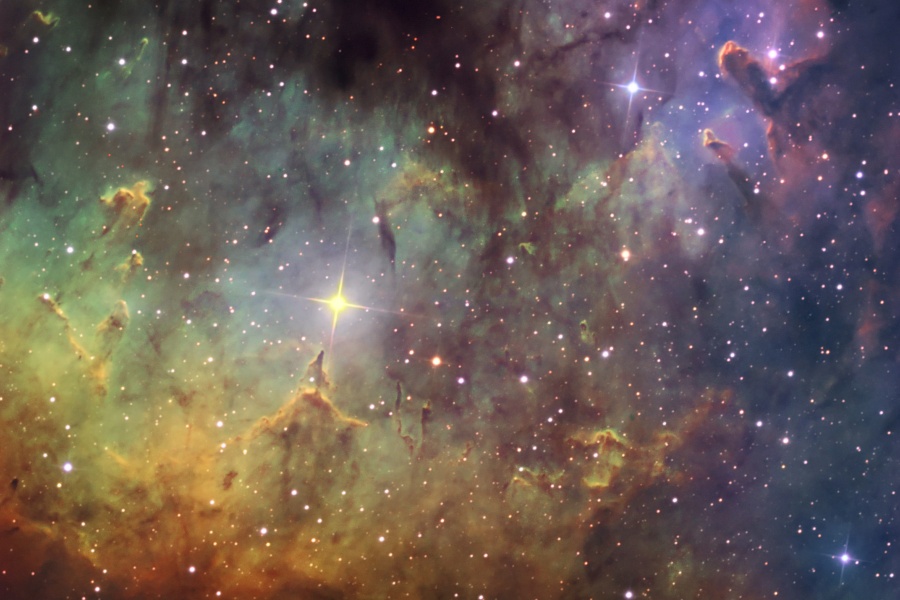 <![endif]>
NGC 7822 in Cepheus
Credit & Copyright: Don Goldman
Explanation: Pillars of gas, dust, and young, hot stars fill the center of NGC 7822. At the edge of a giant molecular cloud toward the northern constellation Cepheus, the glowing star forming region lies about 3,000 light-years away. Within the nebula, bright edges and tantalizing shapes are highlighted in this colorful skyscape. The image includes data from both broadband and narrowband filters, mapping emission from atomic oxygen, hydrogen, and sulfur into blue, green, and red hues. The atomic emission is powered by the energetic radiation from the hot stars, whose powerful winds and radiation also sculpt and erode the denser pillar shapes. Stars could still be forming inside the pillars by gravitational collapse, but as the pillars are eroded away, any forming stars will ultimately be cutoff from their reservoir of star stuff. This field spans around 30 light-years at the estimated distance of NGC
<![if !vml]>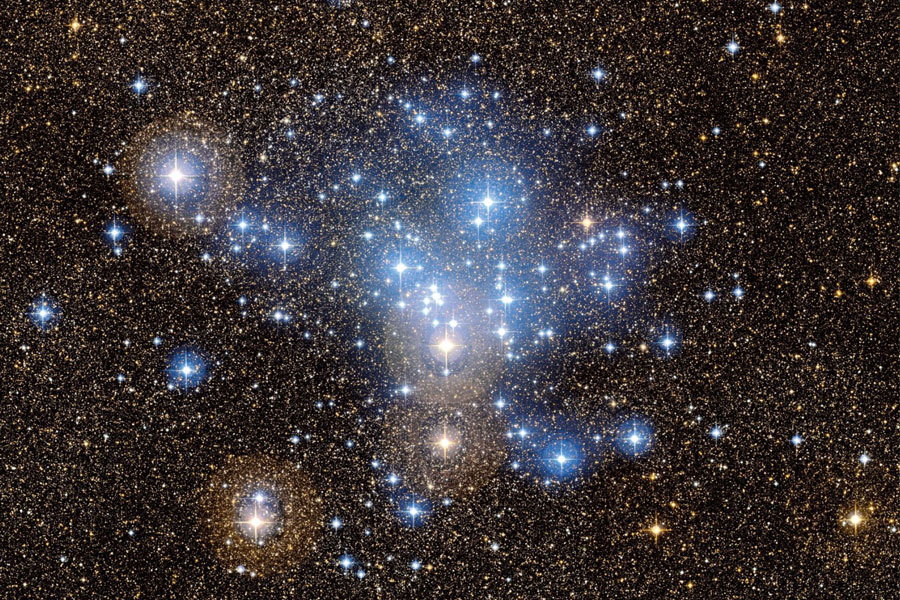 <![endif]>
Open Cluster M25
Credit & Copyright: Jean-Charles Cuillandre (CFHT) & Giovanni Anselmi (Coelum Astronomia), Hawaiian Starlight
Explanation: Many stars like our Sun were formed in open clusters. The above pictured open cluster, M25, contains thousands of stars and is about two thousand light years distant. The stars in this cluster all formed together about 90 million years ago. The bright young stars in M25 appear blue. Open clusters, also called galactic clusters, contain fewer and younger stars than globular clusters. Also unlike globular clusters, open clusters are generally confined to the plane of our Galaxy. M25 is visible with binoculars towards the constellation of the Archer ( Sagittarius).
<![if !vml]>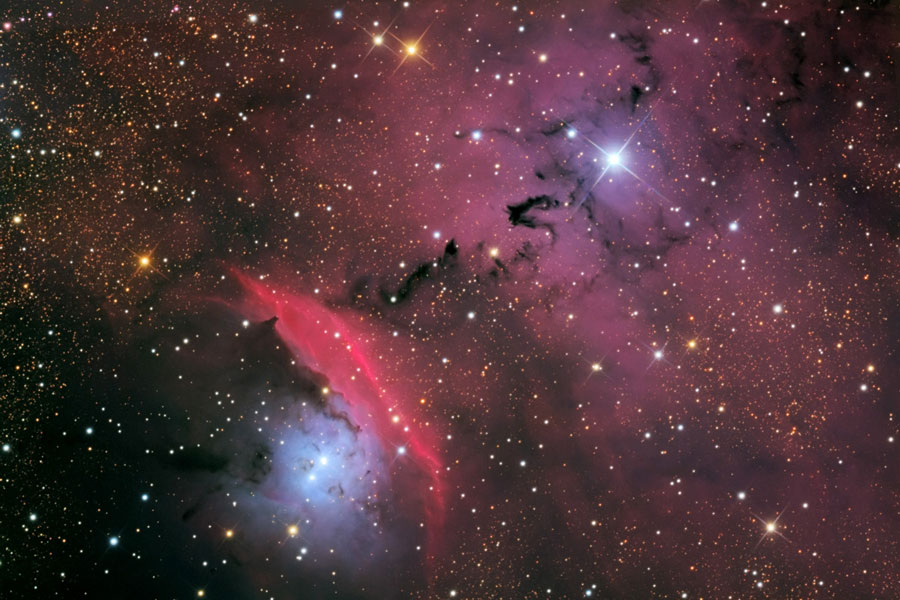 <![endif]>
Stars, Dust and Nebula in NGC 6559
Credit & Copyright: Adam Block, Mt. Lemmon SkyCenter, U. Arizona
Explanation: When stars form, pandemonium reigns. A textbook case is the star forming region NGC 6559. Visible above are red glowing emission nebulas of hydrogen, blue reflection nebulas of dust, dark absorption nebulas of dust, and the stars that formed from them. The first massive stars formed from the dense gas will emit energetic light and winds that erode, fragment, and sculpt their birthplace. And then they explode. The resulting morass can be as beautiful as it is complex. After tens of millions of years, the dust boils away, the gas gets swept away, and all that is left is a naked open cluster of stars.
<![if !vml]>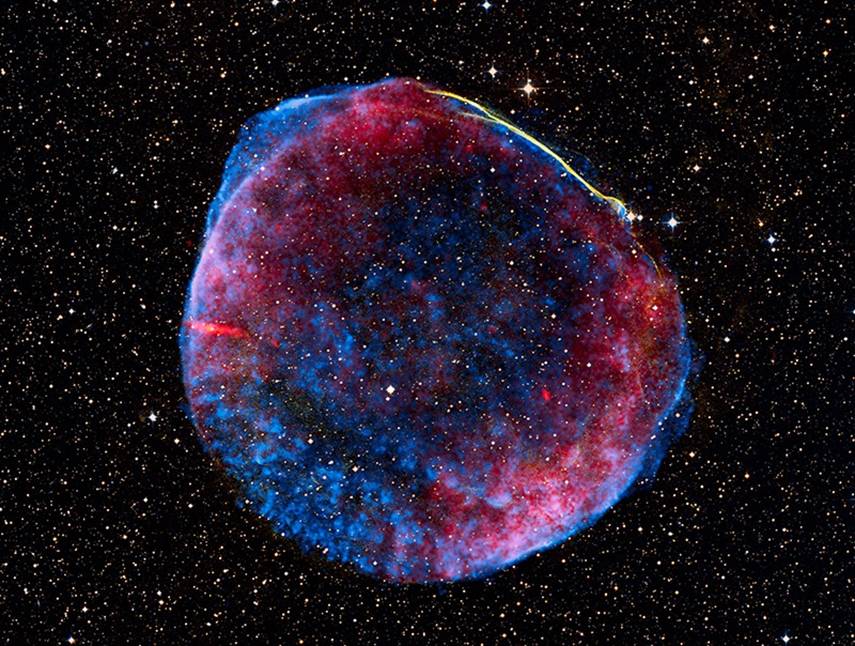 <![endif]>




SN 1006 Supernova Remnant

Image Credit: NASA, ESA, Zolt Levay (STScI)

Explanation: A new star, likely the brightest supernova in recorded human history, lit up planet Earth's sky in the year 1006 AD. The expanding debris cloud from the stellar explosion, found in the southerly constellation of Lupus, still puts on a cosmic light show across the electromagnetic spectrum. In fact, this composite view includes X-ray data in blue from the Chandra Observatory, optical data in yellowish hues, and radio image data in red. Now known as the SN 1006 supernova remnant, the debris cloud appears to be about 60 light-years across and is understood to represent the remains of a white dwarf star. Part of a binary star system, the compact white dwarf gradually captured material from its companion star. The buildup in mass finally triggered a thermonuclear explosion that destroyed the dwarf star. Because the distance to the supernova remnant is about 7,000 light-years, that explosion actually happened 7,000 years before the light reached Earth in 1006. Shockwaves in the remnant accelerate particles to extreme energies and are thought to be a source of the mysterious cosmic rays.

<![if !vml]>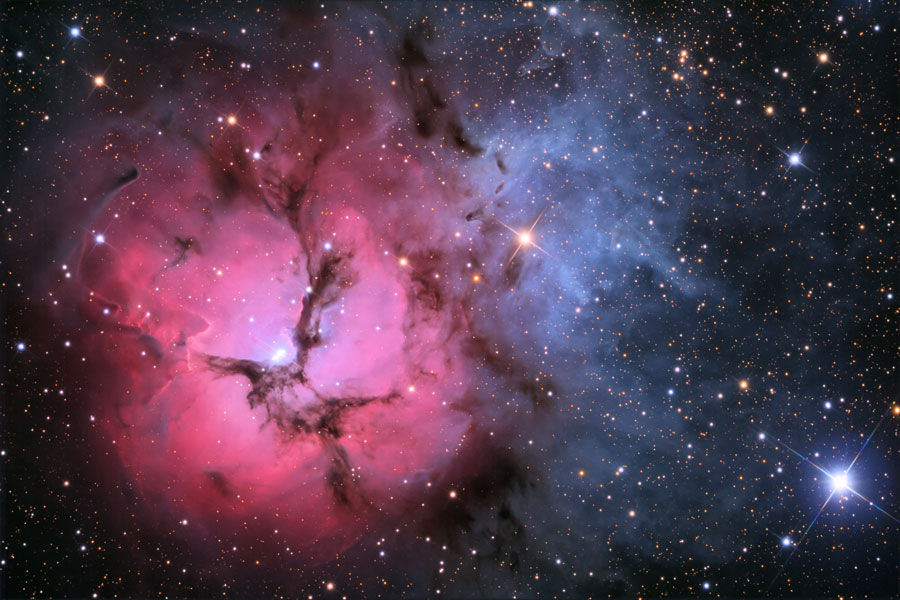 <![endif]>
The Trifid Nebula in Stars and Dust
Credit & Copyright: Adam Block, Mt. Lemmon SkyCenter, U. Arizona
Explanation: Unspeakable beauty and unimaginable bedlam can be found together in the Trifid Nebula. Also known as M20, this photogenic nebula is visible with good binoculars towards the constellation of Sagittarius. The energetic processes of star formation create not only the colors but the chaos. The red-glowing gas results from high-energy starlight striking interstellar hydrogen gas. The dark dust filaments that lace M20 were created in the atmospheres of cool giant stars and in the debris from supernovae explosions. Which bright young stars light up the blue reflection nebula is still being investigated. The light from M20 we see today left perhaps 3,000 years ago, although the exact distance remains unknown. Light takes about 50 years to cross M20.

God's Perfect Sight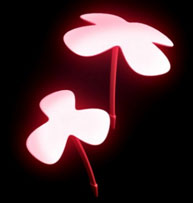 Monday April 15, 2013
LINKS
World Renew
Click on Pictures
To Enlarge
Go to
NASA
Website
For Description







Snowflakes in the
Universal Sky




God's
Perfect Sight